Each year Mississippi State University holds a Research Symposium, open for all students to present the research they have worked on throughout the school year. Hundreds of students from many different areas of study submit their project statements and information to the symposium. For the symposium, Sara and I entered research we had done for our Design 5 studio. This studio mainly dealt with regional planning, utilizing tools such as: geographic information system (GIS), Photoshop, and AutoCAD.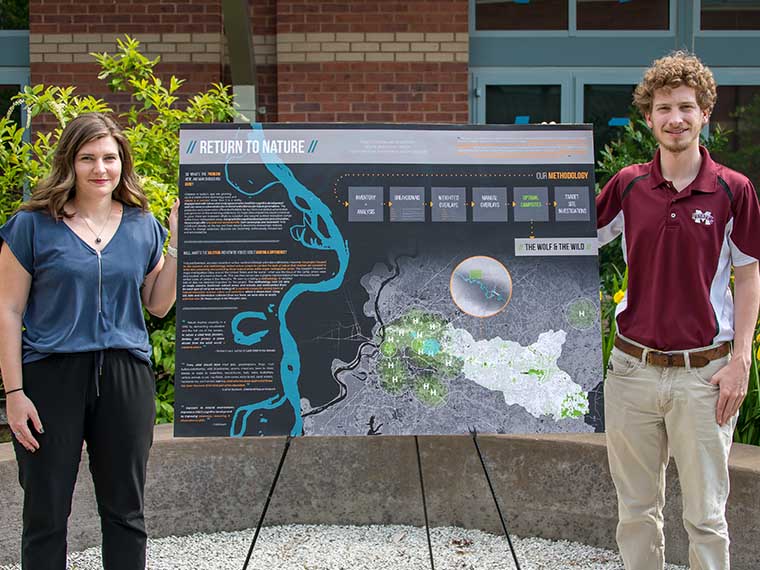 In the class we worked with the Wolf River Conservancy specifically focusing on locating and designing Nature Camps in the Wolf River watershed located in Memphis, Tn. Our research concluded that children today, as a whole, spend significantly less time outdoors than previous generations. According to the National Recreation and Park Association, "children today spend less time outdoors than any other generation, devoting only four to seven minutes to unstructured outdoor play per day while spending an average of seven and a half hours in front of electronic media." From these findings, we knew providing outdoor connections such as nature camps would be incredibly beneficial to people both near the wolf river watershed and across the country.
Stemming from our research, we designed three different types of nature camps. The first was a weekend nature camp that would be located in the woods, similar to a summer camp. The second camp would be a science camp closer into the city that would teach fun STEM (Science, Technology, Engineering and Mathematics) classes. Lastly, we proposed an urban camp that would allow city kids to get in touch with nature through classes at a local school or public space. With these three types of camps we created a universal methodology that could be used in other cities to implement these camps. For the research symposium we chose one of the three types of camps to focus our presentation board on. We went with the nature camp because this one interested Sara and me the most out of the three camps. We had both grown up going outdoors a lot and spending time in nature. We felt a call to draw more kids outside to enjoy the same things we did growing up. Our goal was to use GIS to locate potential locations for a nature camp. We used GIS and layered different elements of the natural environment to create a map. The environment elements we used in the research were land cover, streams, roads, natural areas, and schools. We also applied other elements such as hospitals, and other existing outdoor infrastructure. With these layered elements we created a weighted overlay; the information we deemed most important for that camp was assigned the "heaviest weight." Based on the type of nature camp we were targeting, we were able to modify the element's percentage. With these layered elements we were able to locate optimal conditions for a nature camp in the Wolf River watershed. After locating these possible sites, we analyzed them using satellite imagery in order to insure our findings were correct. With our methodology, we can take this program and the list of elements and implement this in different cities across the U.S. with only minor adjustment.