Travure is a mixed use development located in Germantown, TN developed by Gill Properties. Its objective is to provide office, retail and restaurant space within a walkable campus with outdoor gathering spaces to improve quality of life. During the planning process for the campus a courtyard space was established between a five-story office building and a three-story parking garage with a width of approximately 22 feet. The goal of the design was to turn the narrow space into an outdoor gathering node within this walkable, mixed use campus. Gill Properties approached BPD for an innovative design during the building construction process.  BPD created a series of sketches and a 3D model to evaluated our ideas and develop an understanding of spatial relationships in the narrow courtyard.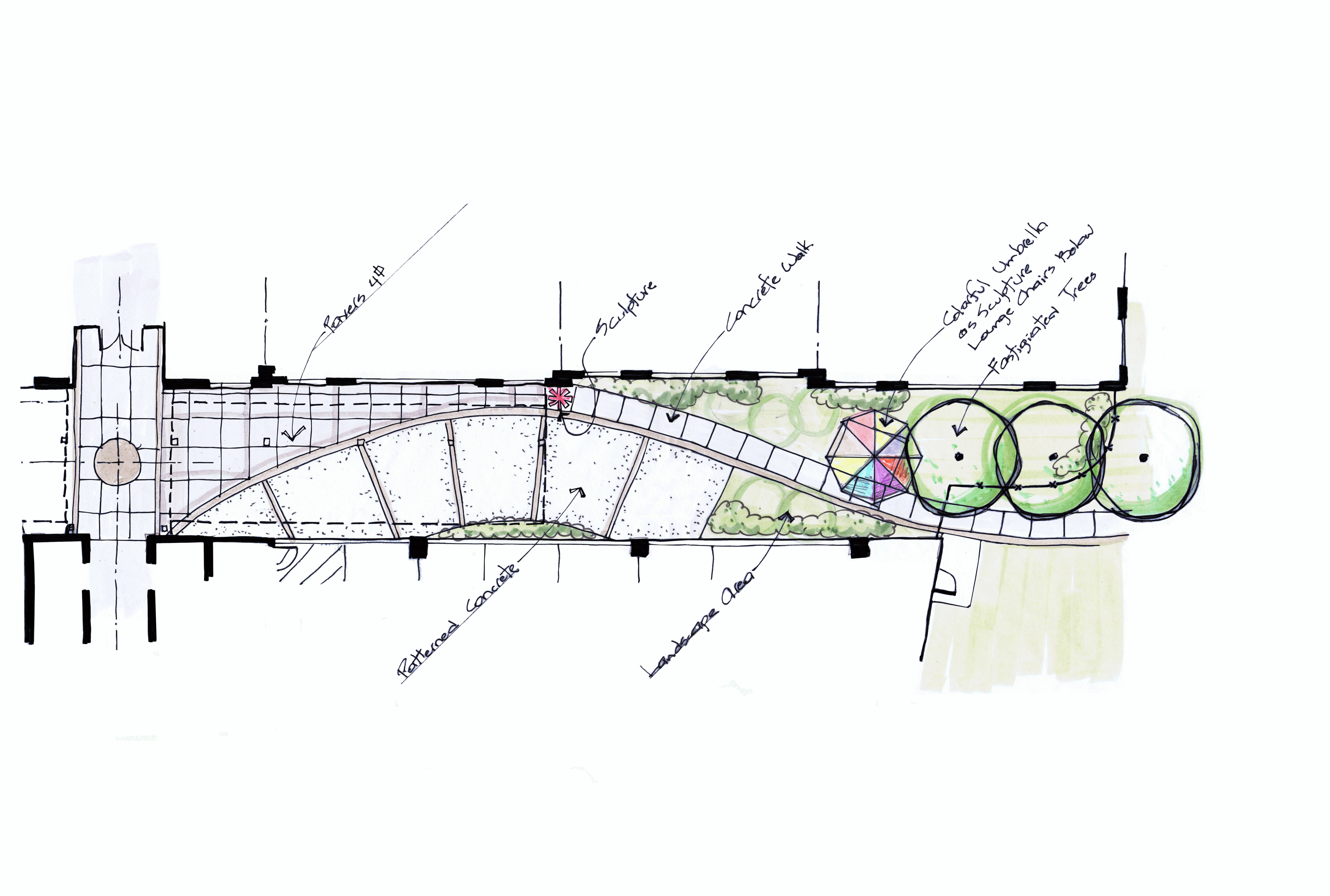 Two challenges arose during the design process, the limited width of the space and stormwater detention that was planned under the courtyard.  The width of the courtyard created a challenge with the plant selection inside the courtyard. The narrowness created two unknowns: first, how air would move through the space, if at all; and second, the amount of sunlight the space would receive. Both of these factors greatly influence the plant selection. The underground stormwater storage tanks and the necessary infrastructure, i.e. soil cement, compacted soils, etc., limited the amount of useable soil to function as planting space. BPD utilized trees and shrubs in the ground where possible, but also in raised planters.  The planters would allow for plantings where the stormwater detention would not. The plant palette is comprised of a variety of textures colors to create visual interest year-round.
The courtyard is complete! We are excited to see how the space will be used and how the plants will flush out and change over time. The courtyard will be great addition to the Travure campus, creating a gathering place for meetings and events for all visitors.
Congratulations to TraVure for being named a finalist in the Memphis Business Journal's 2019 Building Memphis Awards!